For professionals working in the 3D imagery industry, they require a special tool often referred to as a "3D Motion Controller", "3D Navigation", or "6DOF" device (DOF means: "six degrees of freedom", by the way).
While a 3D mouse is one of the newer products to be released for input devices, artists, engineers, and designers all find that having the ability to move freely within a three-dimensional space to be a great improvement to their workflow.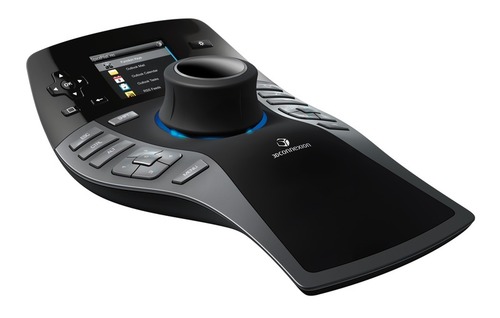 Using features such as the ability to tilt, zoom in and out, spin- and even roll (to name a few), a 3D mouse streamlines and provides a better way of managing movement during projects. All of which saves tons of production time.
While the basic design and functionality of a 3D mouse are fairly standardized, there are still several feature variations that come along with selecting the proper tool for a particular job.
Owners of a 3D mouse will invariably encounter situations where their device will need to be accessed over a remote desktop. If this happens to be you, then you will know that the main issue with this necessity is that remote protocols are not supportive of USB devices.
Well, if you're asking yourself: "How do I access my 3D mouse via RDP, or is there a means of sharing said device in an RDP environment?"
...you've come to the right place.

USB over Ethernet
14-day free trial
If you need to access your 3D mouse during a remote desktop protocol, USB over Ethernet is the software solution to help you easily and effectively overcome this challenge.
5 Easy Steps To Access A USB 3D Mouse During A Remote Desktop Session:
Download and install USB Network Gate on both the machine that needs access to 3D mouse via RDP, as well as the machine that provides the access.


Use your USB cable to connect the mouse, and then navigate to 'Devices' in order to locate your 3D mouse in the list of available devices.


Click 'Settings', and see if there is anything you need to change – port numbers, encryption, etc.


Click the 'Share' button.


Now that the mouse is displayed in the list of shared devices on machines that have USB Network Gate installed on them – locate it in the 'Devices' list and click 'Connect'.
That's it, in just five easy steps, you can now use your 3D mouse during your RDP sessions!
One of the best features of USB Network Gate is its very user-friendly interface. Using our software to redirect your 3D mouse is enjoyable and easy, which is why our USB Network Gate is considered very pleasant to integrate into your workflow. If you want to protect your 3D mouse while working in RDP, you are welcome to use the USB Device isolation feature, which appeared in USB Network Gate since version 9.0. You may protect the USB device in the current session or for the user's ID.