Once you've downloaded USB over Ethernet software from the website, and installed it on your computer, the free 14-day trial period begins. Basically, for two weeks you'll be able to utilize the application's functionality without limitations: any of your USB devices can be shared so anyone at your network can access it from a remote machine (they'll have to take it in turns though for only one PC can be connected to the shared device at any given moment).
You can either make the most of your free trial period and wait for the whole two weeks, or make your mind about the purchase sooner, it's up to you. Whichever you choose, the full information on available USB Network Gate license types with up to date prices is constantly on hand on our website.
As soon as the product purchase is confirmed, we'll send you the Activation Code required for the USB Network Gate activation.
Note that you'll only need to activate the Server Module of USB Network Gate. The Client Module of the application is free to use and you won't have to tune it up in any way to access the shared device from a remote PC.
Here's what you'll need to do to successfully activate your copy of USB Network Gate Server:
Step 1: Run USB Network Gate, click "Help", and select "Enter registration info" from the dropdown menu to invoke the "USB Network Gate Activation" window.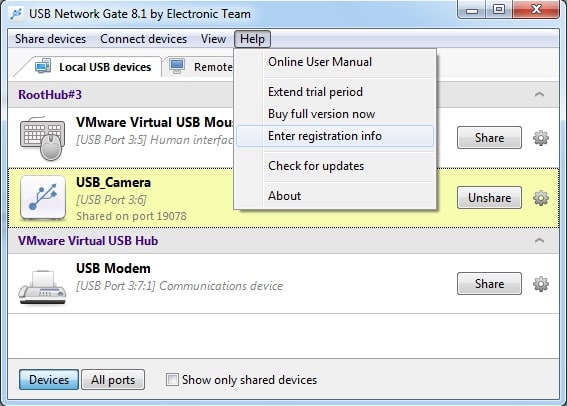 Step 2: Enter your Activation Code into the corresponding field and click Activate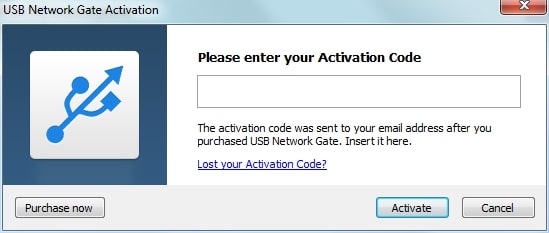 Important! Your computer must be connected to the Internet, or else you'll see this message:

No worries, you can still activate your USB Network Gate. It'll just take a few more steps
Step 3: On the USB Network Gate Activation tab, click Activate manually.
Step 4: Take your time to read the info on the tab that you'll see, it's all you need to know to effectively perform an offline activation. After that, click Save activation info to create an .activate file.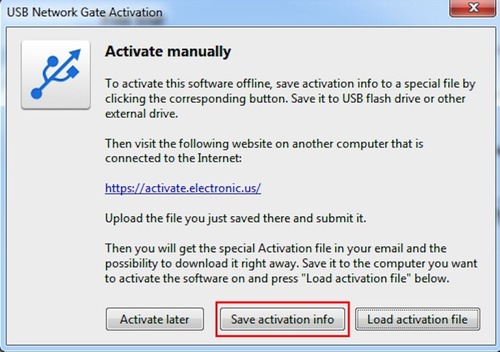 Step 5: Copy the .activate file to the Internet-connected PC in any way convenient for you.
Step 6: Follow this link https://activate.electronic.us to our dedicated offline activation page. Click Browse to attach your .activate file then click Submit.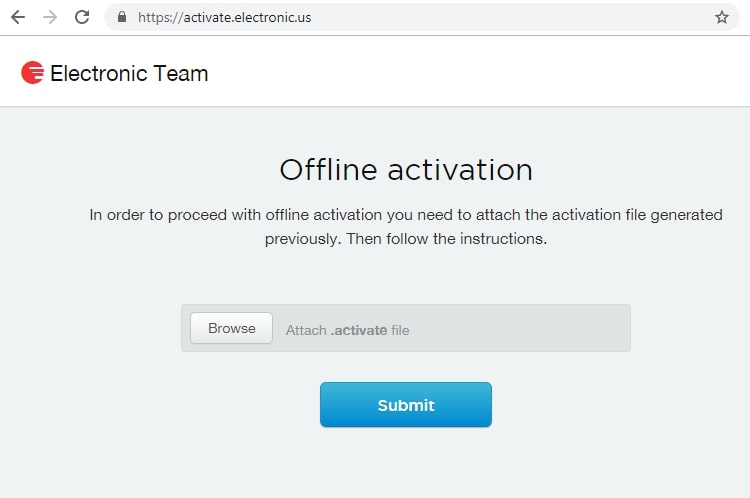 Step 7: After that, you'll need to download the file generated for you and copy it on the computer with USB Network Gate installed (and still to be activated), and click Load activation file. If you've mistakenly closed the activation tab, just start all over again and repeat Steps 1-3.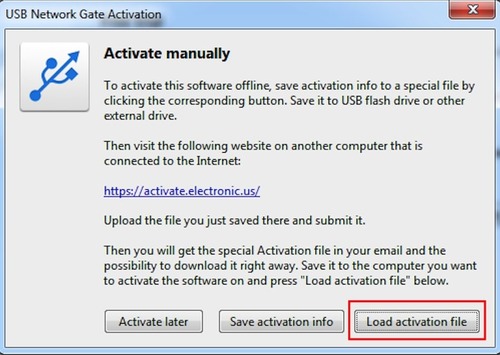 You'll get a message confirming successful activation.
A few points to note:
Once in a rare while, USB Network Gate may need to be reactivated for a smooth and fail-safe license compliance check. If your PC has the Internet connection, this will be done automatically in the background. If not, you'll have to reactivate your USB Network Gate manually.


You don't need to activate the Trial version of USB Network Gate, it's an autonomous procedure. No fuss with codes and the like.


We won't ask you to provide any personal data! See our Privacy Policy if any specifics are needed.