If you need to use your USB device on a remote machine, first you'll have to share it. With the right software in hand, the USB device sharing process is on the order of sharing some files or folders from your HDD over the local network. Though, you won't be able to access the shared device from the local machine all the while that it's being used by the remote PC.
With USB over Ethernet software you can also access your USB device remotely over the Internet. However, for this end, an external IP address is an absolute must-have.
Technically, using USB Network Gate you're sharing a USB port so any USB device connected to it immediately becomes accessible via network. For instance, you can hook up your USB webcam instead of the memory stick and all the client PCs will see it straight away with no system's reboot or app's restart.
Note: When choosing a license to purchase, please be aware that all the limitations apply only to the number of shared ports, not the number of users. For example, if you have a Single License for one shared USB device you can make one USB port accessible from any remote machine (only one at any specific time).
Whenever you need to obtain remote access to a USB from the client side, make sure that on the server side said device is connected to the shared USB port. Although it is best to plug your USB device to the port before sharing, it isn't mandatory. You can just share any port that is free at the moment, and then plug your device into it.
For the sake of simplicity, let's assume that you've already connected the USB device to the port we're about to share. Here's what you'll need to do next:
Step 1: Run USB Network Gate and go to the Local USB devices tab.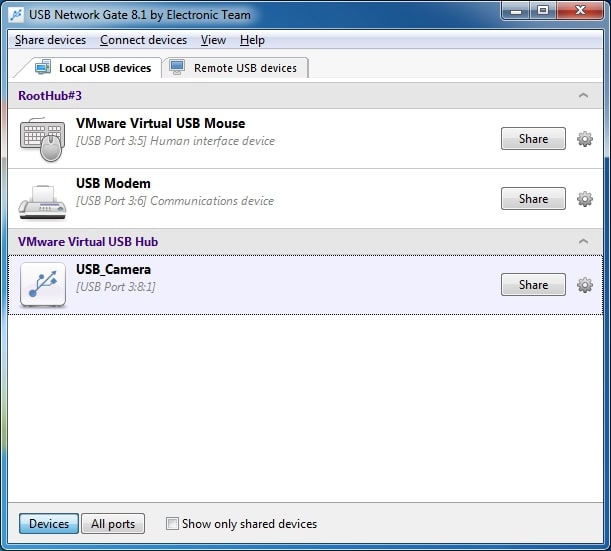 Step 2: Click Share next to the device that you want to share.
Step 3: Use the invoked Sharing options tab to customize the settings to your liking.
Here are some options you can go with: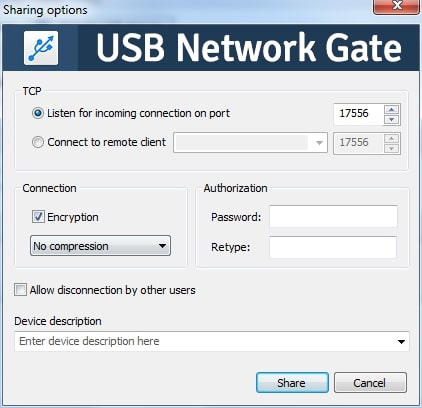 In the TCP section, you can assign a specific local TCP port for the connection by choosing Listen for incoming connection on port. Alternatively, you can enable the Connect to remote client option for the reverse connection initiated from the server side.
The Connection section comes in handy if the device you're about to share contains any sensitive data that needs protection. Tick the Encryption box to enable traffic encryption. This may somewhat reduce the data throughput performance but, on the flip side of the coin, for sure increases the security fetch protection. Enabled Traffic compression option can fix this issue to a certain extent, most notably while sharing a scanner or some other device that doesn't compress their transferred data. However, some peripherals, e.g. webcams and audio cards, only work with data that can't be compressed at all. With this in mind, make sure the device you're about to share is not an isochronous USB device before enabling compression.
The Authorization section allows you to secure your connection with a password. By this means, anyone attempting to access the shared device will be prompted to enter this password.
By ticking the Allow disconnection by other users box you authorize any remote user to unlink other users from the shared device.
The Device description field can assist you with further device identification. You can give your shared device a custom name visible on both server and client machines. From there on, even if you've got two devices of the same type there'll be no problem telling them apart.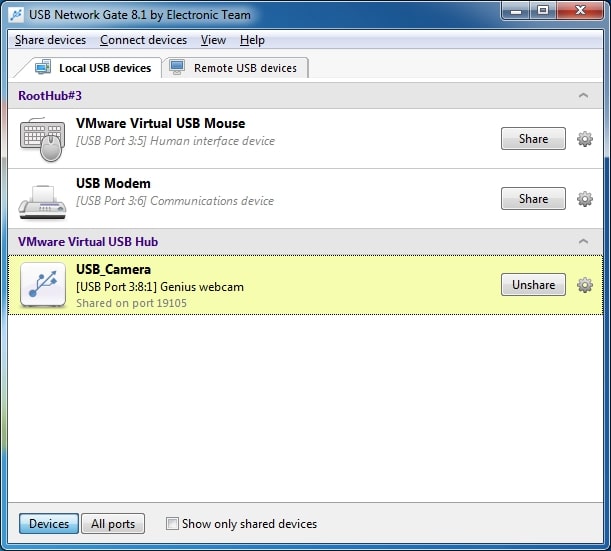 To make device identification even easier, you can get the USB port location to be displayed in device description. Just click View in the main menu and pick the Show USB port location option from the drop-down list: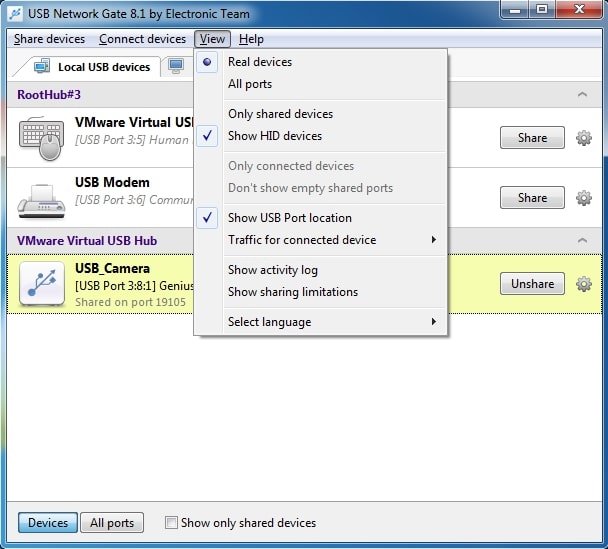 As soon as you click the Share button on the Sharing options tab you'll be able to use your shared USB device remotely from the client PC. In case the steps above didn't work out for whatever reason, disconnect your USB device from the port and share the port individually. After then, attach the USB device to this shared port.
How to Unshare a Local USB Device
(for Windows)
As you may recall, shared USB devices become inaccessible from the machine they're physically attached to. Therefore, at some point, you may need to unshare them.
Here's the way to do it.
On the Local USB devices tab, find the device that you need to unshare in the list and click the Unshare button next to its name: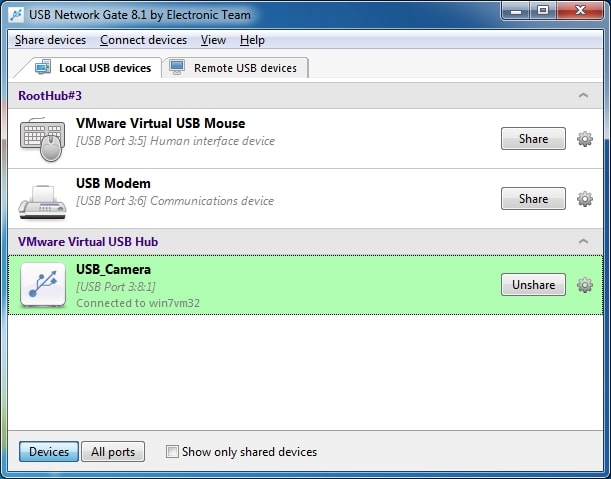 Apart from that, you've got an option to unshare a whole lot of your shared peripherals in one go. In the main menu, click Share devices and pick the Unshare all option from the dropdown list: