With USB through Ethernet you can share your USB device over Internet or the local network, but first you'll have to download the application from our official webpage and install it:
on the server system - the PC physically attached to the device you're about to share;


on the client system - any other PC that needs a remote access to said device.
How to share a USB device using USB Network Gate on Linux
Step 1: On your server, run USB Network Gate and clock Share local USB devices.

Step 2: Click Share next to your device's name.

Step 3: You may want to assign a different port number, or protect your connection with password and/or data encryption (with compression, if needed).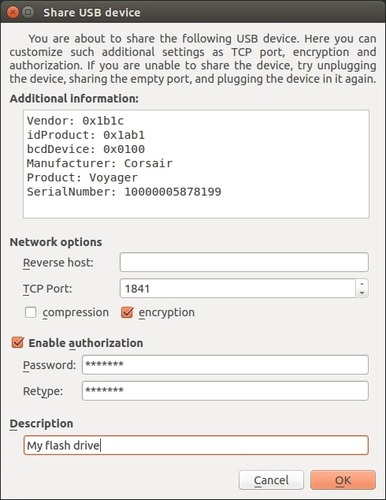 How to connect to a USB device on remote machine for Linux
Step 1: On your client, run USB Network Gate and click Remote USB devices.
Step 2: On the main toolbar, click Find to invoke the Add remote USB device dialog.

Here you can use Find to search for a specific hostname or IP if you know that's where your device is attached or go with Find all to find all shared devices available in your local network.

If you've got no search results, it's more than likely that your server's firewall has blocked one of these ports. Click Add on the toolbar to invoke the Add remote USB device dialog and select the number of the TCP port that has your device plugged into:

Step 3: Select your device from the list and click Connect or Connect once (if you don't want the app to try and restore your connection was one to fail for any reason).
Also, you'll be asked to enter a password if the device you're connecting to is a protected one. To find out how to start with USB over Ethernet software for Windows visit our Guide.