Before using USB over Ethernet software to share your USB device over Internet or the local network, you'll have to download the application from our official webpage and install it both on the server system (the PC physically attached to the device you're about to share), and the client system (any other PC that needs a remote access to said device).
How to share a USB device using USB Network Gate
Step 1: Run USB Network Gate on your server system and go to the Local USB devices tab: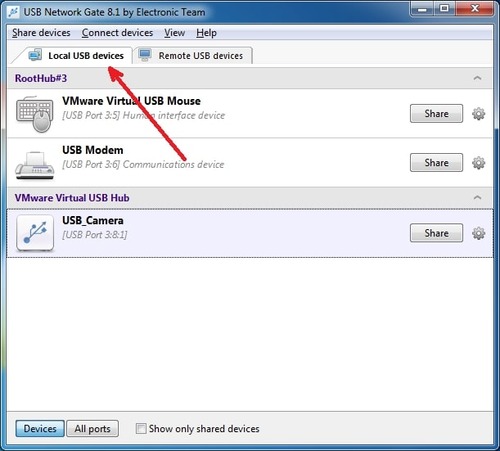 Step 2: Find the device you want to share and click Share next to its name: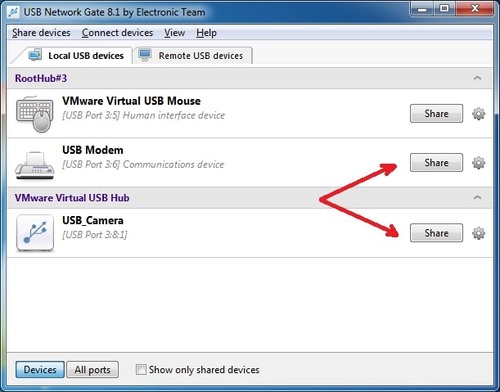 Step 3: Use the invoked Sharing options tab to configure device sharing parameters to your liking. At this point, you can assign the specific TCP port that's going to be used for traffic exchange, or protect your connection with password or encryption (with or without the traffic compression). Note that you can alter these settings any time, though you'll have to restart your Windows OS for the changes to take effect.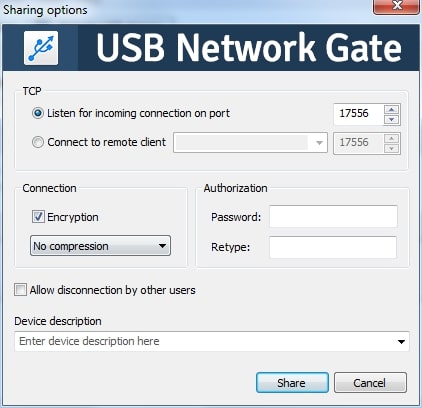 How to connect to a shared USB device from a remote machine
Step 1: Run USB Network Gate on your client system this time. Then go to the Remote USB devices tab. There you'll see every device that you've shared with USB Network Gate for they're detected automatically.
Step 2: Click the Connect button next to the device that you need to access remotely.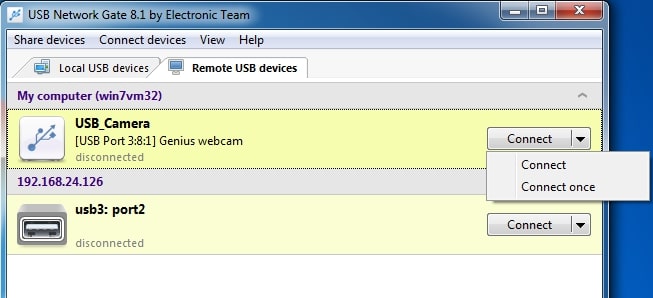 There's a little dropdown menu with a Connect once option here. You can go for this one if you wouldn't want USB Network Gate to attempt restoring the lost connection.
Note that even if you've chosen the Connect option, USB Network Gate won't try to fix the link failed due to the wrong password entered, or the one disabled from the server system.
Also at this point you may be asked to enter a password (If you're connecting to a protected device).
Step 3: If there are too many devices on the list to find the one you need straight away, you can type in the network name or IP address of the machine that has your device plugged into, and click Find. Or you can just search your local network for the shared devices by clicking Find all.
Step 4: The search produced no results? That can happen if your server system's firewall is blocking one or more network ports essential for connection. Press Add on the toolbar to invoke the Manually add shared device tab and enter the device's name and the number of the port it's connected to: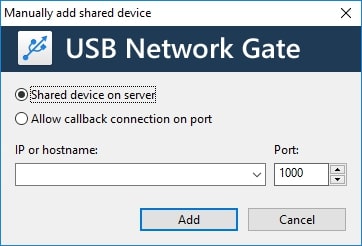 Step 5: After that, you'll see your device on the list and will be able to access it by clicking Connect or Connect once. If the device is protected with a password you'll be asked to enter it.