How to Share a Local USB Device on the Server Side
USB over Ethernet software lets you share USB to the network. Here are some simple steps you'll need to perform to share a USB device from your local Mac OS X computer:
Step 1: On your server side PC, run USB Network Gate, and click Local at the top of the main window.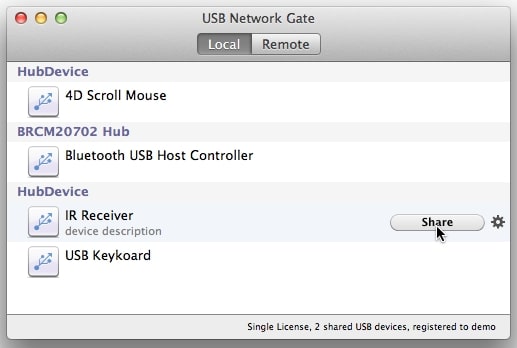 Step 2: At the main area of the Local pane, you'll see the list of all the USB devices attached to a host PC at the moment. Can't find your device on the list? Unplug it and plug back in again. This will most likely fix the problem.
Step 3: Select your device and click Share next to its name. This will invoke a dialog that allows you to configure these connection's settings to your liking: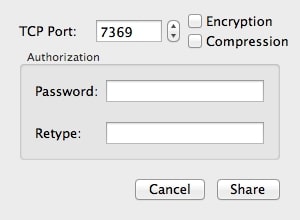 TCP Port: here you can assign a specific port number for your connection. If you're not sure which port is free at the moment, just leave this field empty. In this case, USB Network Gate assigns one of the ports at random.


Encryption box: ticking it makes your connection more secure by enabling traffic encryption. On the other side of the coin, it also decreases the connection speed.


Compression box: tick to enable traffic compression. This can be beneficial for remote usage of USB devices that operate uncompressed data, such as scanners. However, using this option with isochronous USB devices, such as audio cards, webcams, or other USB peripherals that only operate incompressible data formats, will do you a disservice. By the way of illustration, if you enable data compression while using a webcam, there'll be a noticeable video quality loss.


Authorization: use this section to secure the connection with a password.
Note: If you need more detailed information on your USB device, e.g. Manufacturer, Product name, or Serial Number, etc.), go to menu→ Device→Inspector: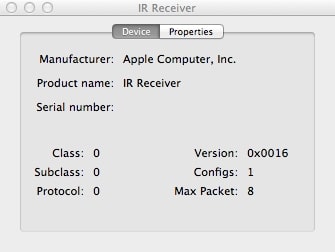 Step 4: Once all the settings are adjusted the right way, click Share to make your USB device available for remote connection from the client side.
Connect to a Remote Shared USB from the Client Side
Here is what you'll need to do to connect to a shared USB device from your Mac OS X PC:
Step 1: Run USB Network Gate to see the list of all shared devices available for remote connection. It's the automatically updated list, so all the devices shared by USB Network Gate are added to it on a real-time basis. Yet still, it is not that you can't perform a manual remote server search when required.
In order to get that done, either click the Add server button at the bottom-left corner, or you can go to the menu → Manage → Connect to New Server.
Step 2: Once you've found your device on the Remote pane's list, click on its name to highlight. Then click Connect. If you're trying to access a password-protected device, you'll be prompted to enter the password in the invoked dialog tab. Type the password in the corresponding field and click OK.