Current-day corporate life requires 24/7 access and control of remote peripherals. Say, while you're connected to your office printer via network, you can still use it regardless of the distance. That's about as much as you need to know to share a printer over Ethernet.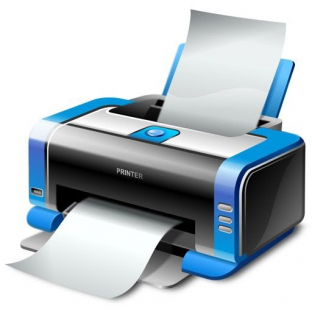 USB through Ethernet is an advanced software solution designed to help you share your USB printer over Ethernet. The most convenient way to share your USB printer over Ethernet between two computers and is through task-specific software solution – USB over Ethernet. Here's how it works in more detail.
Step 1
Start with downloading and installing USB Network Gate on each PC of your network. Here you'll find Mac and Linux versions if required.
Step 2
As soon as the installation is complete, run the application. Head over to the Devices tab and click the Share button next to your printer's name. Additionally, you can set up encryption, or encipher data transfer, if needed. Just click Settings to do so.
Once the device is shared, click Connect on any remote PC in your network that needs accessing it and has USB Network Gate installed.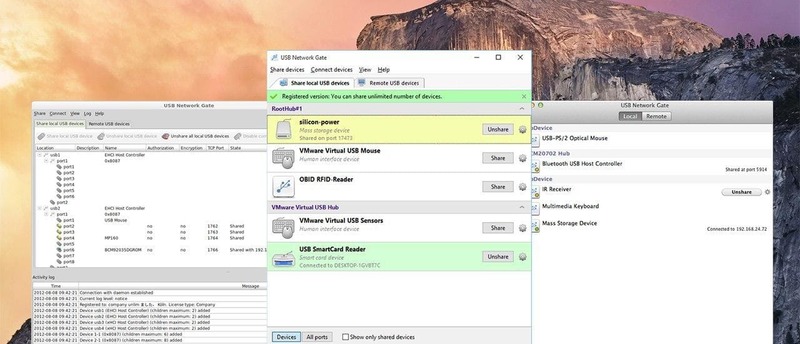 Pros
Mac and Linux versions available
Sharing USB devices of any type
Free 14-day demo version so you can see the true value of the full version before purchasing a licence. It's a one-time deal, so you only pay once to get the source code or OEM license
Cons
The license price is $159.95
You'll have to install USB Network Gate on every PC that needs to use a shared device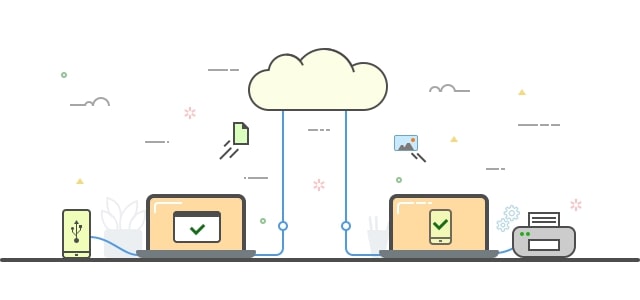 Sharing a USB printer over Wi-Fi
There is a way to share a USB printer over Wi-Fi. All you need is a wireless router and this easy-to-follow gude:
Step 1
Choose a PC that'll have your printer assigned to and connect it to a wireless router using Ethernet cable. See that it has no problem detecting the network, in case if it's already configured. Or connect your router to a broadband Internet modem, if that machine is hosting the network.
Step 2
Connect your printer to the host machine through a USB cable. Take care that you have the latest versions of all drivers. Then open the Control Panel and go to Network and Sharing to turn on file and printer sharing.

USB over Ethernet
14-day free trial
Step 3
On the host machine, right-click on your printer's name and select Printer properties in the invoked menu. Then tick Share this printer box. Just below the box, there will be your printer's system name that you may want to change for easier identification.
Step 4
Some additional drivers may be required if there are different operating systems on your network's PCs. See the Additional Drivers section at the bottom of the Sharing tab.
NOTE: the shared printer can't be accessed if the host machine is turned off.
Pros
You won't have to install any additional software
You get it for free, so it's the most cost-effective solution.
You don't need a setup on the network's machines to access your printer
Cons
The shared device is completely open to anybody who connects your Wi-Fi network
A notedly difficult setup process
Wouldn't work without a Wi-Fi router and Internet access