USB over LAN provides you with the option to enable traffic encryption for your connections along with password protection.
To ensure your data safety, follow these steps:
Step 1: Run USB Network Gate on the machine that has your shared device attached. Then go to the Share local USB devices tab.
Step 2: Click the Sharing options button next to the shared device that needs a protected connection.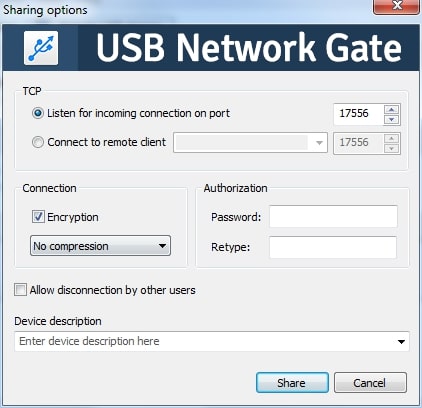 Tick the Encryption checkbox if you want all the incoming and outgoing traffic on your USB device to be encoded. Sure enough, it will slacken the data transfer speed. On the other hand, no unauthorized access to your information of value.
To protect access to your device with a password, type it in the relevant field under Authorization and then retype it once more in the field below. Now, no remote user will be able to access the shared device without entering this password.
Note: You'll have to restart your Windows OS for any changes in encryption, compression, or authorization to take effect.